HIRE sylvie FOR YOUR WORKPLACE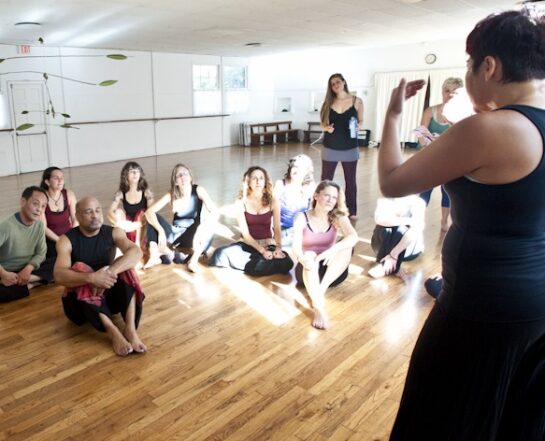 According to recent studies, employees have been dealing with soaring rates of depression, anxiety, and lack of focus since the start of the COVID pandemic.
Workplace capacity building with an emphasis on wellness can help employees calm their anxiety, feel more fulfilled and connected, improve their ability to focus, and enjoy their time spent at work.
Sylvie Minot's workplace events are tailored specifically for each individual corporate environment. Sylvie utilizes the principles of mindful awareness, meditation, and breath combined with movement to promote employee feelings of well-being.
Practices that can be incorporated in the session, depending on class needs:
stress management
leadership
team building
voice dialogue
increased energy
focus & concentration
emotional wellness
Sylvie's workshops can reinvigorate, energize, and refresh individuals and teams. Sylvie's special can help employees find mindfulness, focus, and concentration. We create custom events and tailored experiences to build physical, mental, and emotional wellness. Contact Sylvie at [email protected].
corporate well-being offerings
mindful movement class
Mindful Movement classes hold tremendous energy, especially when shared with others. Sylvie Minot's mindful movement approach helps participants release anxiety and move into a more relaxed state. Taking a break from work to attend a mindful movement session naturally boosts participants' mood by releasing endorphins, thus improving their ability to focus and complete work in a calm and confident state of mind. 
Sylvie's Mindful Movement sessions are designed to help participants connect with their bodies through breath and movement, let go of muscle stiffness from too much sitting, and emerge from class relaxed and rejuvenated. Sessions can be 60 – 90 minutes, tailored to meet the needs of the organization with up to 35 participants per session.
The cost for group sessions varies based on the size and length of the sessions. 
Interested parties can contact Sylvie at [email protected]
leadership in motion workshops
Syzygy Dance Project's Leadership in Motion class is a novel approach to professional development that focuses on the nonverbal embodiment of leadership. Over 90% of how you communicate with other people is nonverbal and the key to leadership effectiveness is intricately tied to your gestures, postures, and movements. Leadership in Motion classes integrate mindfulness, creative movement exercises, and music to help you discover your unique expression of leadership. Classes also offer participants tools to help expand nonverbal embodiment vocabulary in order to more fully realize one's leadership potential.

We work closely with each company or organization to tailor classes that best support your unique vision, needs, and goals. Each program typically consists of a series of 90-minute classes with up to 35 participants. No previous dance experience is required.
Interested parties can contact Sylvie at [email protected]
recent workplace classes:
UC Berkeley Haas School of Business
UCSF Palliative Care Program
​​VA Palo Alto Health Care System
Zuckerberg San Francisco General Hospital
John F. Kennedy University
San Jose State University
American Heart Association